Google loves to be different. So it's no surprise that the company has out-there ideas for the post-pandemic office.

As Google starts to bring employees back to offices in some regions, it plans to experiment with ways to give them more elbow room and blend elements of virtual work with in-person collaboration. The goal, as my colleague Dai Wakabayashi described in an article on Google's vision of the new office, is to re-imagine a happier and more productive workplace.

Dai spoke to me about what Google learned from the last year of employees working mostly away from offices, and whether a company with limitless resources will be a model of the future workplace.
Shira: What did Google find from more than a year of mostly remote work?
Dai:
Google was surprised at how productive its workforce was. Some employees liked working away from the office, or liked aspects of it, and weren't willing to go back to an office full time. One downside that Google executives talked about was missing some creativity and collaboration, and a difficulty in establishing workplace culture and trust, when people weren't together in person.But even before the pandemic, Google had started to believe that its current office work environment was broken.
Shira: Broken in what way?
Dai: Part of the problem is that Google's workforce has grown so quickly, and the company was packing people into offices. Google's parent company, Alphabet, now has 140,000 full-time employees, more than twice as many as it had five years ago.
Some employees said that they had trouble focusing in the office because there were too many people and distractions. And some of Google's office complexes were so sprawling that it took people a long time to travel from one building to another. Office work didn't work for a lot of people.

Shira: What is Google trying to do differently now?
Dai: First, it wants to provide more safety or the feeling of safety by staggering how frequently people come to the office and eventually "de-densifying" its offices. That's to reduce the potential spread of COVID-19 now, and Google is thinking ahead to annual flu seasons and potential future pandemics. Google's head of real estate said that ensuring 6 feet of distance in the office meant it could use only one out of every three desks from the current configurations.
Google also realizes that it can't demand that people come into the office five days a week anymore. And it wants to be more flexible to people's changing needs. One example is work spaces that can be configured to the needs of a particular team or project. It's also experimenting with personal heating and cooling systems at desks and camp-themed outdoor meeting spaces. Google is calling these changes a pilot that will apply to 10% of its global work space.
Shira: Is this going to happen everywhere? Where are my outdoor work tents and personal heating system?
Dai: This is probably going to cost Google billions of dollars, and most companies cannot afford that. But Google has been a trendsetter for a long time in employment practices and office design. Tech companies like Google helped spread the concept of wide-open office spaces with high ceilings and desks crammed close together. If these new ideas about an office environment with the best of remote work and in-person wind up successful, elements of what Google is doing may filter down to other kinds of companies, too.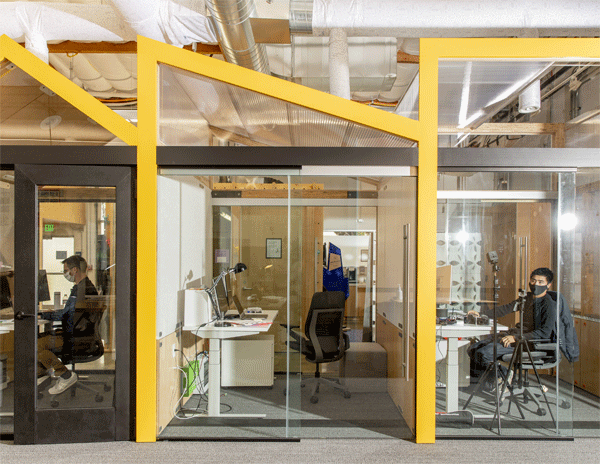 Shira: What questions do you have about how this will work for Google?
Dai: Some Google workers want to go back to an office full time, and others want to work remotely forever. How is Google going to cater to the individual desires of tens of thousands of people? If Google mandates that people must work from an office two days a week or so, will it fire people who refuse? Google knows that its workers are in high demand.
And there are so many unknowns about whether a mix of remote and office work will be the best of both, or the worst of each. This is all a big deal for Google and for its employees. There is nothing more personal than freedom and autonomy around your work.